Matching glass panels in your home
If you have existing leaded panels and wish to commission some more, Billigoat can design and make them
Customers are often looking to replace a plain fanlight (window above a door) to match existing door or porch panels. Alternatively, a complementary approach can also be taken, using elements of the original design, or working with its key shapes, textures or colours


Charles Rennie Mackintosh 1902
Your design in leaded glass
People generally have some idea of what they want. Billigoat Designs can take an initial idea and work it up to a suitable design. (In fact this is part of the process that Billigoat finds most satisfying)
Each piece of leaded glass-work is a one-off item, tailored to the individual's wishes. Sketches are produced, and consideration given to which types of glass would best suit the project. A final design is agreed and matters of framing, strength and finish are finalised
To see a couple of examples of work undertaken for customers who had a general idea of what they wanted, take a look at "Katy's Fanlight" and "4 Seasons" in the Gallery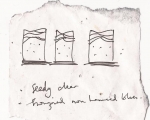 Customer's rough sketch
A vast array of coloured and textured glass is available to work with. A nice example of a particular type of glass being used to effect as part of a design can be seen in "Moira's Windows" in the Gallery. Here the spectators at the cricket ground are represented by a special multicoloured "confetti" glass
Because of the nature of the materials used in the age old art of leading glass, very fine detail is not always possible; but Billigoat Designs usually finds a way to make things work!
If the piece is for an indoor situation, the Copper Foil technique can be used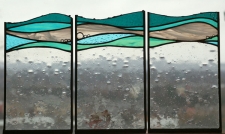 Final piece
Traditional designs in leaded glass
Leaded glass became popular in middle class homes during Victorian times and flourished through the Art Deco period before World War II. Houses built in the 1950s can also feature leaded glass, particularly in their front door panes. The American architect Frank Lloyd Wright is influential in stained glass design, as is his contemporary from this side of the pond, Charles Rennie Macintosh. See Right for images of glass work by these two geniuses
The pair of panels "Bristol Bay" is inspired by Frank Lloyd Wright and the "Leeds Door" from Clarice Cliff's "Autumn" pattern. See the Gallery for images
ALL STYLES AND TASTES CAN BE ACCOMMODATED


Prairie Style, Frank Lloyd Wright
Copper Foil
The "Copper Foil" glass techniqe emerged in the 1890's from the workshops of Louis Tiffany and his amazing lampshades (in contrast to leaded glass, which dates from as far back as the 7th century). See Right for a small section of an amazing Tiffany lampshade
Copper Foil lends itself to smaller and more intricate interior work. This technique offers no weather resistance and is therefore not suitable for exterior panels - unless they are secondary glazed or encapsulated - most things are possible!
See the Gallery for examples of Billigoat Copper Foil work


Tiffany Lamp